TRADING DOCK

Please contact the people listed in the ad directly. Thank you.
1. For sale: 1955 Penn Yan "Sea Liner 16 ft" rare double cockpit not walk through. All original hardware and steering wheel "no cracks" yellow bottom paint and varnish very good condition. Seat back cushions original and excellent. I have stored it inside for 42 years. 1955 35 hp Evinrude electric start motor looks brand new. 1970's shore line trailer no rust. Custom made blue canvas in excellent condition. Asking $4000 call 315-536-4401.
2. 1959 Century Resorter 19' rebuilt Gray 220hp, like new upholstery. Cover and trailer. $8,000. Larry 315-331-8627 or Oct-April 727-856-9029.
3. House in Mt. Dora. One block off lake. Lou Smith 607-731-5354.
4. 1965 18' Penn Yan Mariner IO 100 hp Crusader-Eaton. Original 1965. Catalog and service manuals. Trailer $3,200/BO in water, running, 585-967-4210.
5. Smaller barn full of boats:Still have many nice ones: Penn Yan, Yellowjacket,MFG, Arktraveler,Roberts, Peterborough,Mirrocraft,Thompson,etc. Many merc outboards. Dick Curvin 315-729-4666.
6. 1948 Shepherd Utility—Fully restored by Ken Wykes in ONT. Fresh varnish last year. 135 HP Chrysler 6 cylinder. The boat is 18 feet, and includes fitted Shorelander trailer. Fun boat with unique look. Runs great. Asking $16,000.00. Contact Steve at 585-314-7858.
7. 1972 19′ Century Arabian. 440/330hp, 450hrs, blue/white, nice trailer. Doug Emerson 315-789-0969.
8. Many outboard boats, some with motors – wooden, metal, fiberglass. Most owned for many years and all stored inside. For more information contact Dick Curvin at 315-729-4666.
19. Wanted – Vintage small boat trailer suitable for a canoe or rowboat. Prefer old-style, pre-war car wheels, home made is fine, contact Jerry at 585-387-9271 or jludwig@rochester.rr.com.
10. Early 1950, Penn Yan cartopper. Original, non-restored, low serial numbered boat w rear starboard side light pole and probably non-original oars. A true original museum piece. Original blue canvas, non-altered has not seen water in over 40 years. Humidity controlled, heated storage. Perfect. Asking $7500. Thanks. Jim 410-739-6922. It will be at Hammondsport show in July or purchase prior to.
11. 2009 Little River Marine 15′ Heritage Classic sliding seat rowing skiff. Comes with canvas cover, dolly, sliding-seat, sculling oars (carbon/glass fiber, standard shaft – spoon blade), premium yellow color, wood and wicker folding passenger seat and ultra rear view mirror. Like new, excellent condition, used less than 5 hours on the water. Has been kept in dry storage. Asking $2,995, firm. Compare to new at over $7,000. Call Jim Wilson at 607-292-6972. (5/19/14)
12. Wanted, Penn Yan Boat Catalogs. The ones needed are for the years 1928 through 1937, 1940, 1944, 1947, 1948, 1950, 1961, 1962 and 1963 or if there are any catalogs before 1927. Please contact Jerry Clare at 516-662-1283.
13. 1959 Cruiser's Inc. 16-17 feet, recently refinished with a new transom, 75 hp Evinrude (1963), runs well, trailer, cover, bumpers, etc. included, lift available – $2,800.00. Call David Capus at 607-738-8757 or dcapus@stny.rr.com.
14. 1968 Lyman I/O. This boat is stunning right down to the bilge. Engine runs strong. Beautiful trailer makes this a complete package. Many pictures are available on request. $12,500. Contact Matt at matt@antiqueboatamerica.com or call 585-314-5293.
15. 1964 17″ Century Resorter. Complete restoration from top to bottom. Nothing was spared including the engine. Only test hours on engine since rebuild. This also is a complete package with a trailer. Stunning boat asking $19,500. Pictures available on request. Contact Matt at 585-314-5293 or matt@antiqueboatamerica.com.
16. 1955 22′ Chris Craft Continental project boat conduction. Engine M-130hp, Hull No: CL-22-007, the boat has matching numbers. Boat was used very little, almost no dings with good bottom. The deck was removed by a professional with all boards marked. Have all pieces of the boat including folding top bows. $5,900.00 includes the trailer. Call 585-330-6258.
17. 1940 Schweizer Utility. Cedar hull mahogany deck transom. I85HP Chris Craft engine. Everything in very good condition. This boat was built by two German brothers that built boats in Buffalo, NY from aprox 1915 to the mid 50s. They started with small fishing boats and worked their to larger craft. This boat is one of two of this model remaining. Boat a galvanized trailer that has never been registered (I have title) and full deck cover. $12500. Contact Mick Griffin at mickg16@aol.com, 716-662-1949 or 716-289-4305 (cell).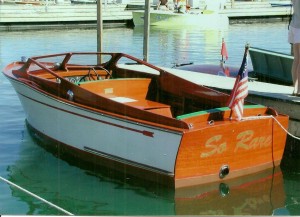 18. 2015 Wood Mellonseed sailboat. Glued lapstreake construction, sailed four times. Comes with Galvanized trailer and new cover of your choice (either trailing cover or one with mast up). This built by professional builder. As new condition. $12,500.00. Contact Mick Griffin at mickg16@aol.com, 716-662-1949 or 716-289-4305 (cell).
19. 1957 15 foot Nilescraft runabout on a 1957 Gator trailer. Motor is a 1962 40 hp Johnson. Contact Gary Wilston at 570-404-2134.
20. 1964 17 foot Century Resorter, Chevy 260 hp engine, velvet drive, completely restored, Keuka Lake Boat, new upholstery, galvanized trailer, custom cover and boarding ladder. $9,800.00 Call Jim at 585-760-4649.
21. The Puffin III is a very well maintained 27 foot 1927 Fay & Bowen runabout built entirely out of mahogany. She is finished bright. Starting with the bull nose bow with clear deck to the windshield there is a cockpit with tandem seating for four in two bench seats. The steering wheel is to port with large shift lever to starboard. The engine is covered by a large hatch that forms a clear forward deck. The bronze rudder is well sized to bring the boat to her desired course. The transom is wood with a varnish finish.
1927, 27 foot, Fay and Bowen motor boat
Hull ID: 884
Was owned by David D. Closson (he has passed away)
Boat is being stored at Riveredge Marina in Ashland, NH (covered storage)
Boat was always in covered storage on the lake and very well maintained
Hull type: Torpedo
Beam: 5 feet
Draft: 1 foot, 3″
Gas powered V6 with a 20 gallon fuel capacity
Asking price: $60k or best offer
Boat was featured on a local magazine show a few years ago, starts at 2.40 minutes:
22. 1954 18 foot Morehouse utility with trailer. White painted hull and mahogany deck, original Hercules K engine, 6 vole electric winch. Very good condition. Asking $11,000. Teddi Myllymake 315-635-3634. Baldwinsville, New York.
23. Outboard boats for sale, Ark Traveler, Texas Maid, Feathercraft, MFG, wooden strip built rowboat, molded ply 16 foot runabout, 16 foot shell lake runabout, many off brand outboards – Champion, muncie, Oliver and West Bent, call Dick Curvin at 315-729-4666, Moravia, New York.
24. For sale: Classic Boating Magazines, complete set from #1 through current issue. All in excellent condition. $500.00. Call Bill Locke, 716-386-2107 or wrlenzo@aol.com.
25. For Sale: Moving to Lake Champlain on the water.
1—25.6 foot Truscott runabout 1948. New York Boat Show 1948. sold as ride boat in New Hampshire. 1 of 1.
1—18.9 foot Truscott utility 1948 owned by Auto Cerner former Governor for Illinoi went to jail for tax evasion 1957.
1—18.6 foot Garwood Utility 1941
All boats need restoration.
1— 20 1946 Chris Craft Custom Restored show winner with trailer. $35,000.
1—16 Foot Garwood Enson Utility restored show with trailer. $ 6,500.
1— Pen Yan Sailing Canoe Restored show with trailer. $??????
2— Gray Marine 244 140 HP one rebuilt the other complete and turns over.
1— rebuilt 4-75 gray engine runs.
1—rebuilt 226 114 HP out off a Higgins 17' Sport Speedster.
1— Chrysler 440 Rebuilt complete engine and gear over 375 HP. two 4 Barrel Carbs.
2— Chrysler aces both run.
3— Chrysler Ace blocks and all parts to build the engines.
Starters, generators water pumps. cylinder heads , water manifolds.
parts for Gray marine engines, parts for Chrysler Ace And Chrysler crown
2–Boxes of Gray Marine NOS Parts And Gasket Sets
Gaskets For K and M Chris Craft
Chrysler Crown and Ace.
331-354 Hemi Gaskets M-45-M45Sp3 engines.
A lot more parts two many to list.
Don Spring, 860-653-3660 or onestepback@snet.net
26. Antique Launch for sale – 22'
This is a rare beautiful 1915' 22 ft "long deck" launch built by premier boat manufacturer of that era: Brooks Boat Mfg. Co., of Saginaw, Mich., which pioneered the concept of pattern system knockdown boats later adopted by Sears. Their boats – ranging from small launches to larger yachts – were shipped all over the world.
"Camille" recently won the "Best Launch Restoration" award at the prestigious Clayton Antique Boat Show. Owners have moved on to cruising and are reluctantly selling this stunning launch.
She is in outstanding condition throughout, roomy and comfortable with custom built-in seating. Her 25 hp 1934 Universal engine is in excellent running condition. It is simple to operate, easily accessible economical at speeds up to 15 knots. Constructed of cypress hull, with oak combing and mahogany, Camille is elegant yet functional and easy to maneuver. Current owner has made many upgrades, including new windshield, new flooring, the seating, fittings and bright-work. Custom cover, well-maintained trailer with disc brakes and ready to go. Original Brooks catalogs go with the boat. $16,900. Doug Reicher 315-506-9005
dreic2208@yahoo.com
27. The 14ft Cowell is a 1956 with a Mercury outboard. The price on it is $5900. The Cowell King is 16ft with twin 65hp Mercs. The price on it is $12,900. If someone wanted to buy the both of them we would let them go for $17,500 including the trailer. These boats are from the estate of Bob Dancause who was a member of Wine Country Classic Boats.
I truly hope the boats go to a collector that will care for them as much as my father in law did. Email me at fatdaddyspokes@yahoo.com or call at 585-526-5506.
28. 1966 Century Fibersport Resorter 17', 2005 Karavan KKB-3100-SB-78-S trailer. Runs great; hours are approx. 510; Gray Marine 327 V8 (AMC) 238hp. Prior major service: New valve cover gaskets 2020, plugs, wires, hoses, adjust valves 2018, custom boat cover 2018, Holley 600 carburetor and battery 2016, gas tank cleaned, exhaust gasket, bilge pump, blower 2014, rebuilt propeller 2006. Spare parts: new vinyl for front deck; century pennant; mahogany mast; ignition parts; bimini top and frames; spotlight. $5750. Contact my mechanic Pete Swarthout at Wakeside Marine (formerly Swarthout Marine) 607.569.3658. or me at 410.231.8155.
Submit new ads, corrections or deletions to Patti Bandy at patti.bandy63@gmail.com
Please notify me when your ad is no longer current!
And let us know if this ad resulted in the sale.